"Top 50 jazz vocalists of all time" - Jazz Magazine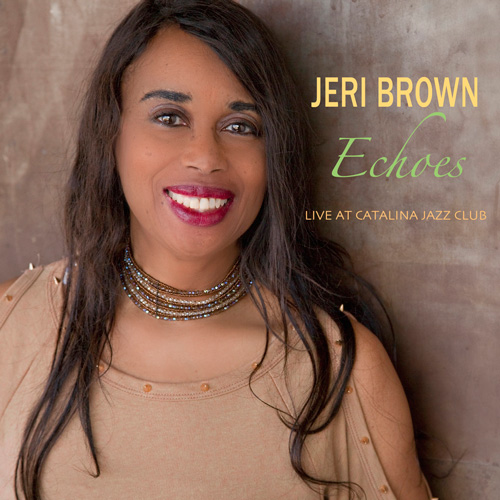 :ECHOES CD Review:
November 26, 2013
CD Review: Jeri Brown – ECHOES (LIVE AT CATALINA JAZZ CLUB): 
The sure sign of a WINNER for a live recording is the amount of energy it generates, both for the players as well as the audience (if audience is permitted into the mix – as they are, a bit, on this one).  The closer on this 11-song CD, "
The Nearness Of You
", is so good it's "almost like church" – & those of you who've "been there" know exactly what I mean!  Another top-of-the-line performance was Jeri's wonderful rendition of "
Afro Blue
"… man, this will hit right home for true jazz lovers… lots of improv & heavy spirit throughout!  Clayton Cameron's drums, bass from Trevor Ware, & piano from Woody Woods all help to propel this right to the top of my playlists!  I give Jeri & crew a MOST HIGHLY RECOMMENDED, with an "EQ" (energy quotient) rating of 4.98.      
Rotcod Zzaj
:ECHOES CD Review:
October 28, 2013
A review written for the Folk & Acoustic Music Exchange
Vocalist Jeri Brown is of the ilk of daring performer and artist not seen in jazz since Nina Simone, and her discipline is such that it crosses all borders…even unto opera. Yep, I said it, and it's true. The opening cut to the CD, Nothing Here but You, is resplendent with the ancient art's austerely beautiful refrains and commanding presence. This is followed with a rendition of the great Leon Thomas' Echoes, for which the CD is named, here with Mon David doubling up behind her. David in fact appears on most of the disc and provides vivid harmony and contrast everywhere, almost as audacious as Brown herself…but not quite. No one's like this woman.
It's been a helluva long time since we've run across pure creativity of this scatting, improv'ing, mutational nature, and I'm quite sure it will be just as long before we see another example. This is rare stuff—frankly, you'd have to travel back to the esteemed Leon, the all-time best such abstract encanter, to locate its kindred—and it is not to be ignored. Brown takes Bacharach's Look of Love and tears it to shreds before lovingly re-assembling the song into a vastly more torrid version than anyone before her has attempted, verging on what Maria Callas or the more experimental Kiri Te Kanawa might have done were they able, which they're not (but if you're unfamiliar with Kiri's work re: My Fair Lady, the Gershwins, and etc., then you're in for a treat), before leaping off the cliff and flying like a be-bopping swan heading for paradise.
I'm dead serious here. This is a VERY unusual album. It will stir emotions you thought long dead, re-create aspects of jazz left in a dark corner, mate up with classicalism in a fashion that will puzzle and fascinate even hard-core purists, and then stun the unwary…but guess what? Once you're done happily scraping your brains back off the wall after the CD winds down, you get to then watch the live session on DVD. This is bliss that should be forbidden human beings, but what the hell? Christmas is on its way, so it's time to start treating yourself. Needless to say, Echoes will appear on my 2013 year-end Best Of list (I love the year's end because, though killer material appears year-round, it really bulks up in Oct., Nov., and Dec.), but dig this: Jeri's already released 9 solo CDs. Good God, someone get the smelling salts, I don't think I can take that much heaven!
I very strongly recommend you watch the DVD as well because it adds an electric dimension that, even as fierce as the CD is, is nonetheless missing. That, after all, is why we attend concerts, isnt' it? When the performers are really into it, their body English and interplay are just as contributory to the entire experience, and that's certainly the case here, adding a LOT, trust me. Mon David is an impossibly hip Frank Sinatra, and Jeri's the Nina Frankie might well have learned much from, had he only listened and been serious. You also get the bonus of interview snippets, in-concert comments, and can watch a band I've criminally undercovered here. They're damn good, and I'd go on further about 'em, but, well, Oscar Brown's Afro Blue is coming up, and I'm heading back to the TV.
Oh, and would it be chauvinistic to mention that Jeri's a barefoot cutie too? It would be??? Okay, then I'm a chauvinist…but I'm also right. Live with it.
by Mark S. Tucker
(progdawg@hotmail.com)
Edited by: David N. Pyles(dnpyles@acousticmusic.com)
:ECHOES CD Review:
October 21, 2013
It is a very interesting production of this Jeri Brown , American singer of color that not only has the courage to live without producing a network, but also to document it with a DVD included with the CD. You can then listen to the record or see the beautiful singer at the Catalina Jazz Club in Los Angeles (California) and listen to it together with another pianist and singer Mon David while releasing short interviews: a way to better understand what are the artistic ambitions The standards of the group as she interpreted beyond the usual reading you may be used in live. The trio that accompanies swinga so amazing and she uses the voice as if it were an instrument, with little attention to the verses or diction. You know and do well, if you know his previous albums, but here is something else entirely. A rule is improvisation, the unpredictability of the interaction with the rhythm and the other singer, the knowing that every moment can can reserve a surprise. There is also at the forefront of his attitude, but the whole thing is summed up by a superb voice that puts chills and an attitude of respect for songs that she knows perfectly but prefers to interpret in an original way. Tradition and avant-garde attitude that go perfectly hand in hand. His improvisations on the harmonies, as if his voice was a saxophone, are simply wonderful, as well as duets with Mon David. In addition to the standards we are his Echo Echoes of Thoughts and Leon Thomas, a singer who helped in his career and with whom he recorded shortly before his untimely death. To accompany a very precise and rhythmic swinging: pianist Woody Woods , Trevor Ware on bass and Clayton Cameron on drums.
By Vittorio Lo Conte
http://www.musiczoom.it/?p=15928
ECHOES CD Review:
September 28, 2013


Jeri Brown  -   Echoes    4/4
O's Notes: Jazz vocalist Jeri Brown is soaring on Echoes, a vocal encounter exploring fresh, improvisational arrangements of standards along with a couple of originals. Brown soars through the melodies and stretches out with vocalese and scatting on several tracks. Guest artist Mon David joins her on half of the selections notably "Afro Blue", "Echo Thoughts" and "African Echo". This is another live recording at Catalina's in Los Angeles delighting an appreciative audience.

-- 
D. Oscar  Groomes 
O's Place Jazz Magazine
http://www.OsPlaceJazz.com
ECHOES CD Review:


www.midwestrecord.com
September 3, 2013
JERI BROWN/Echoes-Live at Catalina Jazz Club:

Here's a jazz vocalist that feels comfortable emoting (without sounding like a car alarm from "American Idol"), improvising and mixing up a set list that includes Hoagy Carmichael and Leon Thomas. Brown is an innovator that brings several elements of the jazz vocal canon together under one roof shaping it into something for people that like performance. Letting you know right out of the box that she's not here to provide dinner music, Brown isn't afraid to let her presence be known.

CHRIS SPECTOR, Editor and Publisher


ECHOES CD Review:




September 16, 2013



Jeri Brown is Artist of the Month at Sounds of Timeless Jazz.com

Thanks for the great music!
Jeri is as comfortable in front of the camera as she is in the recording studio, thereby bringing her music to significant audiences both in and outside the perimeters of jazz. Jeri's voice can be described as three-dimensional. To the up and down (a four octave range), she adds an in and out, a plasticity of dynamics stretched and deepened by changes of vowel and tonal color, from breathy contralto to high flute-like tones. Beyond the realm of music, Jeri Brown holds several degrees in such fields as Counseling, Education and English.

Paula Edelstein

http://www.soundsoftimelessjazz.com



ECHOES CD Review:


http://www.amazon.com/gp/product/B00EP8BA52
August 30, 2013
Review by Grady Harp

Jeri Brown has one of those voices you could listen to all night - so well focused, so full of energy, so pensive one moment and so in the groove in the next moment. This rather astonishing recording was made during a live performance at the Catalina Jazz Club in Los Angeles and as is appropriate for a live performance the emphasis is on experimental rethinking of some terrific of old standards. Brown can sail through scatter and patter and exploring everywhere a voice can go. As one critic has summarized, `Jeri Brown has earned a reputation as one of jazz' most outstanding "artistic" vocalists. Committed to the legacy of vocal jazz, Ms. Brown's performances fill the historical spectrum of classic American songbook themes, original jazz compositions, and contemporary world themes with intense vocal improvisations, and include collaborations with diverse, legendary jazz artists. Brown is well known for performing and recording with passion and dedication.'

She is accompanied here by Clayton Cameron, drums, Trevor Ware, bass, Woody Woods , piano and musical director, and Mon David as guest vocalist to scatter the patter.

The tracks are as follows:

Nothing Else But You (Greg Carter)
Echoes (Leon Thomas)
All The Things You Are (Jerome Kern)
The Look of Love (Burt Bacharach)
I Thought About You (Jimmy Van Heusen)
African Echo (Jeri Brown)
Afro Blue (Oscar Brown, Jr.)
I Got Rhythm (George Gershwin)
No Moon at All (David Mann)
The Nearness of You (Hoagy Carmaichael)

The rhythms and styles are all over the place and that is a good thing here! And to substantiate the happening there is a bonus DVD of the event included.



Top 50 jazz vocalists of all time!
- Jazz Magazine

Jeri Brown has earned a reputation as one of jazz' most outstanding "artistic" vocalists including the distinction from the French publication Jazz Magazine of being one of top 50 jazz vocalists of all time. Brown's illustrious international performance and recording career over a 20-year span has consistently conveyed her artistic signature. In 12 spectacular recordings for Justin Time Records and Jongleur Records, she is committed to the legacy of vocal jazz. Ms. Brown's performances have filled the historical spectrum of classic American songbook themes, original jazz compositions and contemporary world themes with intense vocal improvisations, and include collaborations with diverse, legendary jazz artists.
JERI BROWN LIVE IN TUNISIA!!!!
Jeri Brown, THE VOICE.REVIEW
Jeri Brown - Jazz in Carthage, Tunisia April 13, 2013
Photo © Jean-Louis Neveu
A real voice, one of the most remarkable in the history of jazz as noted by Jazz Magazine. Gifted with an astounding vocal apparatus, Jeri improvised dizzying vocals that could have just displayed sterile technique but didn't because emotion was always present. Her voice was supported by a killer swing rhythm that did not diminish for a moment. I particularly enjoyed the pianist Jobic Le Masson whose phrasing was always adventuresome…. Bassist Peter Giron was the pillar of the rhythm section, the beating heart of the trio. Drummer Ichiro Onoe was always perfect. Everything went quickly with Caravan, I Got Rhythm, Afro Blue, Canteloupe Island and Dizzy Gillespie's A Night in Tunisia, the final crowning piece with lyrics and scat.