Review of "Skin Folk" by Vanessa Jimenez Gabb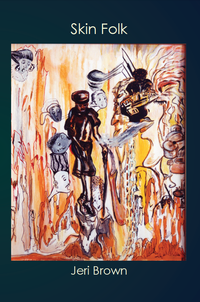 A Jazz Artist Sings Her History through Poetry
"Skin Folk," the latest poetry by jazz artist and former professor at Concordia University, Canada, Jeri Brown, is a collection fueled by the past. The main first-person speaker, in the final poem, "kin," says, "Last year as I prepared for a salvage pickup,/I sifted through much from my past." It is concrete object that leads to abstract memory that leads to deep exploration of identity. And though this is the final piece in the chapbook, it is meant as a prism by which to read what comes before. People come before – a record of Brown's personal, socioeconomic and racial kinfolk – and poets and writers come before – literary giants like Langston Hughes and James Baldwin and Cormac McCarthy are evoked here. The poems weave together to form an ethnographical and lyrical tapestry in essay, photo, poem and photograph form.
"Skin Folk" is an ode to character, to archetype, specifically, to women, to the working-class, to strength as well as to vulnerability. Brown opens with the poem, "warrior" and the line, "What do disabled warriors do?" Beginning witha rhetorical question, with the use of juxtaposition, speaks to Brown's deft ability to balance the humanity of those she seeks to idolize. She follows with "Do they train to become carpenters,/engineers,/bookkeepers and / chauffeurs?" What follows here is Brown's cue, her entry point into a tracing back, into memory, specifically of those who came before that worked with their hands, their voices, their scents. There is a reverence here, for those who have labored, who have done the glamorous and the thankless work of life. In a long poem "landscape," Brown says "Pity for those who could not handle the rich / pungent emotional odor…" Here, and elsewhere, enjambment works as a political act, a subtle and significant class awareness that colors the entirety of the chapbook. There is pride here for those who have come first to lay down roots.
Much of the book is comprised of third-person prose-poem blocks that operate as eulogy, death and life notice, utilizing colors and textures, third-person perspective and dialogue, photos and drawings, functioning almost as persona poetry to illuminate social life and culture. It is this overlay that is the triumph of the book, Brown's squarely placing her speaker in the position of context, of inheritance, of the tradition of migrations (we travel from the American South to Norway and finally to Quebec). Perhaps this is why the "I" figures in so lightly, so humbly, until the final pages. It can't be itself until it has traced these iterations and reconfigurations that precede it.
While the balance of the collection might benefit from even more of the "I" and her subjective meditations on the cataloging she presents, when it does appear, the presence is beautifully complex and confessional. Brown names one of the most significant first-person poems, "fled to my past," whose prepositional phrasing is intriguing as one might typically flee away from instead of towards. "Fled" suggests a need to leave because of oppressive factors. In "Skin Folk," though, Brown and her speaker can only understand and embrace the present of understanding by traveling, figuratively and literally, over various physical, musical and ancestral landscapes. There is a sacredness in this that energizes and ignites. "Skin Folk" goes within the skin, to deferentially pursue the convergence of place and person, the complexity of self by what has led to self.
—Vanessa Jimenez Gabb is the author of Images for Radical Politics. She is based in Brooklyn.
Review of "The Time After", Chapbook by editor, Miriam Dunn, League of Canadian Poets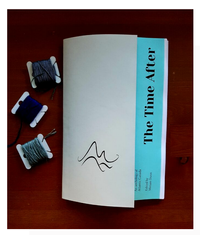 When I decided to gather together some of Atlantic Canada's rich poetic voices and assemble them into a chapbook, I had a vision in mind of what that book would be. This is not that book. Instead, these talented individuals surprised and delighted me with a wide scope of observations, memories, confessions, finding the exceptional in the every day. This collection remembers those who have left us, witnesses those in front of us. It navigates the streets and navigates relationships; it invites us to experience the isolation of being home alone, the heroics of mothering young ones, the peace of evening falling. It takes us shopping for paint and introduces us to passionate individuals. It watches the news and watches people. All from a new perspective; all during this Time After.

It has been my distinct pleasure to read the works of these fine poets, as well as the remarkable work from those fine poets for whom this chapbook could not afford space.The Time After features poetry by: Donna Allard, Jeri Brown, Lucas Crawford, Alison Dyer, John Flood, Kayla Geitzler, Jennifer Houle, Matthew Gwathmey, Kathy Mac, Tiffany Morris, Michelle Porter, Anna Quon, Eleonore Schönmaier and Elizabeth Stevens.
Synopsis of "They Won't Believe You: Dolena's Journey and Other Stories" by Jeri Brown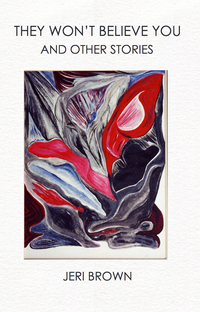 Dolena's father is transformed into an ogre, a green monstrous minotaur villain named Vernon. In her mental escape she shares her story without fear. The reader's attention to his character is directed in three chronicled traumatic treatments: a) multiple true crime stories b) development into a career criminal, and c) mental health assessment in his final appeal during incarceration.
What did Dolena's experience of living the dysfunctional life as a child, filled with physical and psychological abuse have to do with Vernon as a career criminal? And how did his abusive childhood past altar the relationships of those in his torrential path? The character of Dolena is complex. Her parents were inadequate. In many forms both were betrayers, destroyers of the very heart of her childhood innocence. Dolena's mother was weak and fragile, under the thumb of her husband who used manipulation and force to direct her life. Eleven-year-old Dolena carried the burden of shame, witnessing countless scenes of her mother's physical abuse until the ultimate betrayal of her own molestation. When he set his sights on her, she tolerated his behavior, in shock. Her composure during her assaults saved her. After her ordeal, Dolena crossed the street-car tracks to her grandparents' on that Christmas eve breaking her silence. By exposing her nightwind elder's most recent crime, she successfully broke the pattern of domestic abuse in her family. They Won't Believe You: Dolena's Journey and Other Stories discloses the criminal behavior of one deviant creature and chronicles his life and mindset into that of an adult rapist and domestic abuser. A jewel chest of rich content provides a glimpse into many of his circumstances as victim. His abusive parenting prohibited him from an awareness that he had a choice to make in his life. His family drama was the only childhood memories that he had. He was not willing to change. It was his lifestyle. Vernon, the aggressor who molested his daughter had a past of harming females who were available to him. Neighbors, store keepers, family, his wife... Vernon's addictions, mired in chaotic mood swings, altered his self-confidence. He was a rationalizer, a victimizer, and a tyrant. 
I felt his mindset I slipped into his world…his character revealing itself through me. I suddenly could smell his alcoholic breath, and see the red and yellow in his eyes. I remembered much back then, before I became a victim. I could see his hairy skin, large hands, muscular physique, and some of the clothing that he wore routinely. I felt that I knew his sentiments…his intentions.
            "The character of Vernon and his family are my invention. I drew on the careers and work of many incarcerated career criminals interviewed in interview assignments during my counseling education at Kent State in Ohio and since."
 The character of Dolena is influenced in part as my homage to a real person. The writing of a story of her mother's extraordinary domestic war was first pieced together in my creative nonfiction thesis assignment in journalism. Her story has yet to be told. The real Velma shielded and saved her three children from many dangerous interactions in the early sixties including rape, molestation and protection from physical harm. Rape is not inevitable. I have been told if you think you can prevent sexual assault or domestic disruption you are super naive. I don't think so. If we choose to hold perpetrators responsible and if we speak up and say 'we won't tolerate this' much pain can be drastically reduced. They Won't Believe You combines novelistic poetry, prose and short narratives in a book that exposes the theme of violent family toleration through the character of eleven-year-old Dolena who discloses painful family experiences from 1961-1963 through her invention of fantasy. The fantastical metaphors highlight domestic unrest and violation in characters Dolena, Velma, including Vernon, leaving permanent stains on one family in the city of Louisgrove, Missaki in the sixties. "We all survived, although neither of us was open to speak publicly about our abusive pasts. That is when the notion of fantasy entered as the method of telling our stories, about some of what had been done to us. And it's not a pretty picture, rather raw and painful. I've been lucky enough to survive those years and I am grateful to everyone who enriched my understanding of that time. Thanks to my mother, aunt, sister, brother and documented research gathered from prison and local papers of the culprit character of this story, I was able to connect the dots and recreate my story through fantasy. Thanks to my university colleague, illustrator Susan McLeod, I was inspired by illustrations of Dolena, Vernon and Myrtle. It is uncanny how she captured the likenesses of three images." Brown hopes readers take the seeds of fantasy she has planted in the book to use as food for thought. A book for anyone , readers will be able to relate with the experience of being an innocent child at the beginning of feminine discovery in a dysfunctional household.
—Jeri Brown is an African American writer based in Nova Scotia